---
Towards Your Bespoke Home Barista Experience!
Enjoy a tailored experience with the Gaggia Accademia, crafted in Italy with high-quality materials and tactile enhancements for improved visibility. Become the protagonist of your coffee choices and enjoy endless customization options. Achieve the best in-cup results with the professional stainless steel steam wand and pick one of 19 beverages to personalize. Unleash your latte art skills and live an incredible all-round experience.
Order Now!
PREPARE YOUR COFFEE, YOUR WAY
Enjoy a range of coffee styles from short espressos to large cups, hot or ice, with or without milk.
Ristretto
(25 ml)
Espresso
(40 ml)
Lungo
(110 ml)
Flat White
Cappuccino
Latte
Warm Milk Foam
Hot Milk
Machine Features
ITALIAN MASTERFUL ESPRESSO MACHINE
100% designed and handcrafted in Italy. High quality materials, premium details and tactile enhancements for those seeking superior performances.
POWERFUL USER INTERACTION
To feel, to see, to handle. Live an incredible multisensory user experience.
BESPOKE USER EXPERIENCE
Multiple options to personalize your beverages and tailor your coffee experience around your needs.
FLOW CONTROL
The Espresso Plus dial can be adjusted mid-extraction to alter flow rate and flavor intensity. Increase the flow rate for lighter, longer coffees, or decrease flow rate for a bolder espresso.
REMOVABLE CARAFE
The hygienic self-cleaning carafe is removable for storage in the refrigerator.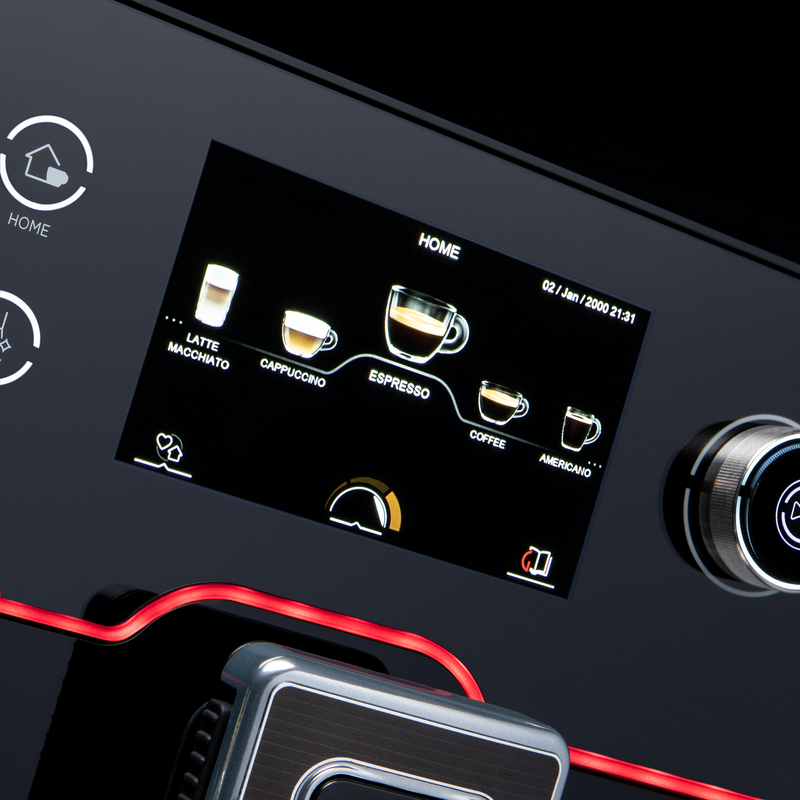 19 ONE-TOUCH SPECIALTIES
A variety of pre-programmed specialty drinks can be brewed with a single touch, including espresso, coffee, cappuccino, latte macchiato, and regional favorites like the Venetian Macchiatone or the Viennese Melange.
Specifications
DIMENSIONS (W X D X H)

28.2 x 38.5 x 42.8 cm

Capacity

350g Bean Hopper, 1.6L Water Tank

Construction Materials

Black Mirrored Glass And Stainless Steels

Grinder

Ceramic Adjustable Grinders

Milk Texturing

Manual milk texturing

Interface

Full Coloured Touch Display, Backlit Capacitive Buttons And Rotary Knobs
FAQ
What is the delivery timeline for Gaggia Machines?
Machine is shipped the next working day after getting your order. Should reach you within 2-5 days.
Do I get warranty in India?
Yes, you get a 1 year warranty.
What's in the box?
• Gaggia Accademia Glass Coffee Machine
• Cleaning Brush
• Intenza + Filter
• Grease Tube
• Grinder Adjustment Key/ Measuring Spoon & Water Hardness Strip